?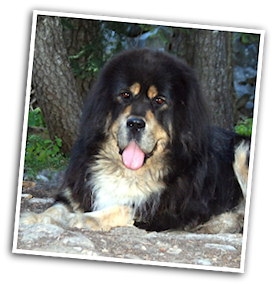 Where do I begin? To tell the story of how great a love can be? The sweet love story that is greater then the sea. ok, you get it, we love our TMs!
We owe our search for a true-hearted family guardian to Bear, a large Great Pyrenees mix.
Bear was a gift to our 12-year old son and he was one of the most loved dogs our family has ever had the privilege to own. Our home is along the Nooksack River and our kids grew up playing in the woods or along the river. Bear adored all children and, because he was their constant companion, I never worried about them. He was aloof with strangers but he had the sense not to be overly-protective for no good reason. He was my great fishing partner, always there, ever watchful. When Bear died, I realized how secure our family had been under his gentle watch and care.
For the first time I realized that there are specific characteristics attributed to individual breeds and I began to look for breeds with those qualities that had endeared Bear to us. During my quest, I found the personality description of the Tibetan Mastiff and it sounded very much like what I was looking for. Then I saw my first picture of a TM. Absolutely beautiful. I was determined to see one in real life. We made a journey north to Canada and met with a family there that had many TMs. After meeting and seeing these wonderful dogs, we began our search for a new family member and we have been involved with Tibetan Mastiffs ever since.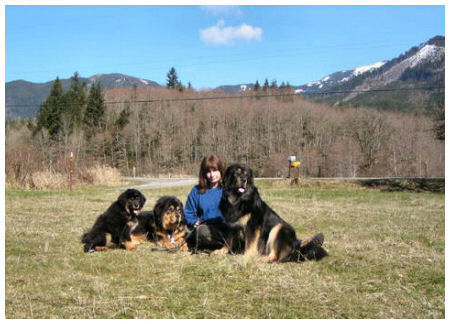 CFAR Tibetan Mastiffs is located in the scenic foothills of the Cascade Mountains in Washington State, USA. We enjoy our rustic log home and surrounding acreage along the Nooksack River. We were first introduced to the Tibetan Mastiff breed 10 years ago and we celebrate the sweet happiness of being owned by them ever since.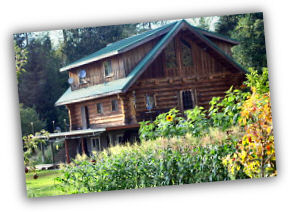 We do plan for occasional litters but our selective breeding choices are secondary to having the dogs participate and interact with us and our at-home activities. They are an important part of our family and when we are home they are right beside us as we do our chores. They have proven themselves to be trustworthy in performing their guardian duties by watching over our cows, cats, and protect the chickens from predators. It's not all work though and our 4 Tibetan Mastiffs have plenty of acreage to play and explore freely. Our dogs are wonderful companions when we are hiking and have perfect manners when going out in public or when we have company drop in. It must be stressed, however that this behavior is due to the fact that we take the proper time to socialize our dogs.
While Tibetan Mastiffs are very loyal, loving and sensitive dogs, we firmly believe this breed is not for everyone. Anyone considering a Tibetan Mastiff should talk to as many breeders and owners as possible to learn about this challenging breed. Spending the required time to train, discipline and socialize pups is essential. Some TMs are nocturnal barkers and due to their independent nature, ALL Tibetan Mastiffs require a well secured, fenced yard when not supervised.
We look forward to learning more about this remarkable breed and having the opportunity to meet and share with those who are passionate about the Tibetan Mastiff.