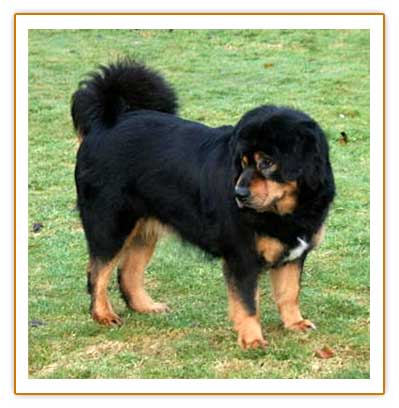 Citadel's Don Chen Tanka
Citadel's Ajayi Cher Song Ba x Himalaya's Skyes Chen Citadel
DOB December 14, 2005
OFA :: Hips - Good :: Elbows - Normal
The second Tibetan Mastiff that we acquired in 2006 was our beautiful puppy girl called Citadel's Don Chen Tanka. I truly tried to resist getting this puppy thinking that having our two females, Pashi and Sairys, was enough. But with the encouragement from other breeders, we had to take a good long look at this outstanding TM.
Her breeder, Kathleen McDaniel of Citadel TMs, told me we would not be disappointed with our decision to welcome Tanka into our family and she was most definitely right about that. A rich black and tan, Tanka is a substantial female with fantastic structure. Tanka has a joyful character and she really turns on the sparkle when she is involved in playtime. She has a natural little strut and is very confident. She knows what she wants and always seems to get it. Quite simply, she may be the smartest dog we have ever owned. Tanka enjoys her family and she is reliable around children and small animals.
We can hardly wait to see how this animated and delightful girl progresses. Thank you, Kathleen, for having this litter.
Photos
Tanka's Sire & Dam
| | |
| --- | --- |
| | |
| CH Citadel's Ajayi Cher Song Ba | Himalaya's Skyes Chen Citadel |